Dr. Kat Waldron, DVM – Veterinarian
Dr. Kat Waldron joined the Acton Veterinary Team in 2016. She graduated from the Ontario Veterinary College in 2014 with early acceptance while pursuing an undergraduate degree in Biomedical Science at the University of Guelph. Though she grew up in Kingston with her parents and brother, most of her time in veterinary medicine has been spent working in the Guelph and surrounding areas. From a young age, she had a love of animals and began working in the veterinary field as a summer student. From that moment on, she knew she wanted to spend her life helping animals. Throughout her pursuit of veterinary medicine, she acquired many furry and non-furry family members that she would bring home from the clinic. She has shared her home with horses, dogs, cats, rats, hamsters, snakes, axolotls, frogs, salamanders and a wide assortment of fish. Today she focuses her attention on small animal medicine and surgery as well as pocket pets. Her main focus is on preventative medicine to ensure that our furry family members can live long, happy healthy lives. Through continuing education, she has also advanced her skills in dentistry and ultrasound.
When not working, Dr. Kat likes to run and is a member of the Guelph Running Room. She even completed a half marathon. She also enjoys horseback riding. Dr. Waldron can also be found volunteering at local schools where she does bandage labs and teaches young children what it means to be a veterinarian. She currently shares her home with her husband Jeff, 3 stepchildren and the newest addition of her son. They also share their home with 4 cats. She looks forward to building a relationship with each of her patients as well as their owners.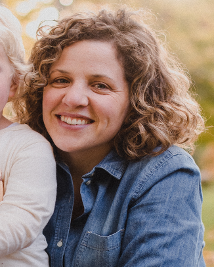 Dr. Ashley Farberman, DVM – Veterinarian
Dr. Ashley Farberman grew up north of Toronto where at an early age, she developed a love for dogs, cats and horses. With her passion for science, Dr. Ashley dreamed of becoming a veterinarian. She received her Master's Degree in Animal Science from the University of Guelph and then graduated from the Ontario Veterinary College in 2012. Dr. Ashley enjoys many aspects of veterinary medicine including preventative medicine and dentistry.
Dr. Ashley lives on a small hobby farm with her husband Shawn, their two children and their two big dogs, Kaya and Ozzy. With her kids and dogs in tow, she enjoys doing arts and crafts, hiking and gardening.
Dr. Ashley loves meeting new people and hopes to share a great relationship with her clients and their furry friends.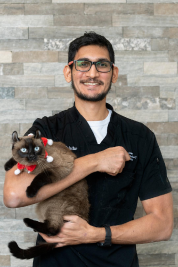 DR. STEPHAN GAJADHAR, DVM - VETERINARIAN
Dr. Stephan joined the Acton Veterinary Clinic in 2021. He has been practicing Veterinary medicine for approximately 8 years before joining the wonderful team here at AVC. Having initially graduated from the University of the West Indies in the Caribbean and then subsequently doing the licensure process for North America a few years later, he has gotten a lot of interesting exposures to many various types of clinical cases from across the globe.
When not working, Dr. Stephan enjoys swimming, rock climbing, hiking and board games. He is very serious about his work and tends to be a goofball about everything else. He currently lives in Milton with his wife and two dogs.
Dr. Stephan enjoys chatting to clients and looks forward to talking your ear off about whatever is ailing your pet. He really likes to deconstruct cases down to their bare bones and goes through things with clients in a stepwise manner. You will usually be leaving an appointment a little more enlightened and will also likely have a bit of reading material to look back on as well.
DR. DEVANSHI SHAH, DVM - VETERINARIAN
Dr. Devanshi Shah graduated with her Veterinary Degree abroad during COVID in 2020. Once returning to Canada, she began seeking a Volunteer Veterinary Shadow position to prepare for the North American Veterinary License Exam (NAVLE). Shortly after beginning her volunteer position, she was asked to work full time as a Veterinary Technician with the Acton Veterinary Clinic. Dr. Devanshi is an outstanding member of our team, and it has been a joy watching her grow her Veterinary skills. She has since passed her NAVLE and is now a veterinarian completing her internship with us.
Dr. Dev has dreamed of becoming a veterinarian since she was in elementary school. She has a great love of animals, and is wonderful with clients, she is also fluent in multiple languages! She is instrumental in the treatment and care of our emergency cases and is also developing a strong surgical skill set with the help of her very experienced mentor Dr. Hess.
Outside of the clinic she is a full-time dog mom for her Husky Stark. She enjoys travelling, being outside in the summer and spending time with her family and friends.